Regular price
Sale price
$19.00 USD
Unit price
per
Sale
Sold out
Fine Woodworking Projects and Intarsia Patterns Book
Intarsia Down Under
is a comprehensive introduction to the Art of Intarsia written from an Australian point of view.
The Australian Woodworker magazine doesn't think the book is too bad.
"It's an attractive book in full colour, with lots of good photographs (and we mean lots!). The author, the very talented Intarsia artist Steve Bundred, definitely believes in the theory that a picture is worth a thousand words, and in this instance it works."
Australian Woodworker magazine
If you are looking for a how to book to take you step by step through all aspects of producing fine intarsia artworks then look no further.
This is a quality publication printed on glossy paper and full of detailed, colour photos of all aspects of Intarsia Construction.
Table of Contents
My Introduction to Intarsia
What Saw is Best? Should you buy a bandsaw or a scrollsaw or something else. And how do you tune it for maximum performance?
Scroll Saws This simple trick will double the life of your blades.
Bandsaw Guides Learn how a simple modification to your guides will improve your cutting accuracy.
Double Cutting Perfect long joins that everyone can do easily.
What Timber is Best? A guide to choosing suitable intarsia woods.
Bleaching and Ebonising Timber Extend your range of wood colours using common household products.
Sanding Learn how to shape and finish off your projects the easy way.
Make your own inexpensive Flap Sander substitute You won't believe how much quicker this is than hand sanding.
Finishes Oils and Lacquers are compared and recommendations given.
Nine Original Projects Detailed plans and step by step instructions illustrated with photos clearly showing every aspect of Intarsia construction. Check out the photos on this page.
Safe Woodworking End your project with the same number of fingers you started with.
Step by step photos make construction a breeze
Even if you have never had a go at Intarsia before you will soon be up and running with the help of this fully illustrated guide. Lots of full colour photos of all the tricky bits will guide you every step of the way.
Patterns for Nine Projects with step by step instructions are included in the book.
The 9 included patterns, shown below, are graded from very simple to a bit more difficult, but not too tricky. Each project builds on the previous one and introduces new concepts one at a time. For instance
The first couple of projects, the Flying Kangaroo and the Wallaby, use one timber
The Koala Mum with Baby and the Koala Dad have more timbers
The Lazy Kangaroo begins a 3D effect
The Swaggy introduces double cutting
The Egret Mirror incorporates other woodworking skills to make the circular frame
and the Bikie takes the 3D effect to its intarsia limit
Good Woodworking magazine
Britain's biggest selling woodworking magazine said.
"Down Under woodworker, Steve Bundred has dragged intarsia into the 21st century. Full of information about tools and timber, with clear and precise step by step instruction, accompanied by excellent colour pictures and a grand Antipodean sense of humour, Intarsia Down Under also includes plans for a number (9 actually guys) of original projects."
The printed paper book "Intarsia Down Under"
Posted worldwide by 1st class mail. Shouldn't take more than a week or 10 days to your place. Quicker if you're an Aussie. Postage only $12 per order.
If you're only after this book click "buy now" to go straight to the checkout.
If you want more plans click "add to cart" and keep on looking. You can easily remove it later if you change your mind.
Share
View full details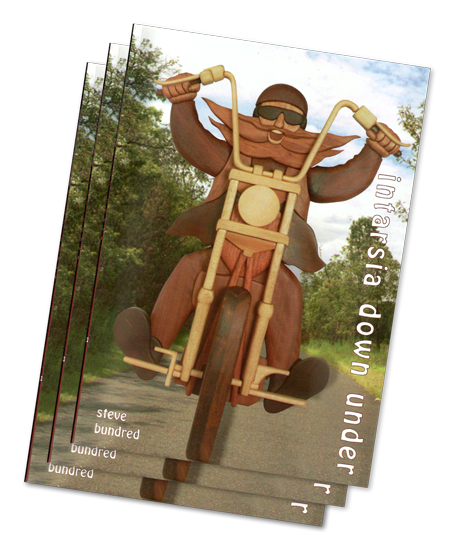 FREE Patterns included with the book
Flying Kanga

Walla Bee

Koala Dad

Koala Mum & Baby

Lazy Kanga

Swaggy

Bikie

Egret Mirror

Sailboard