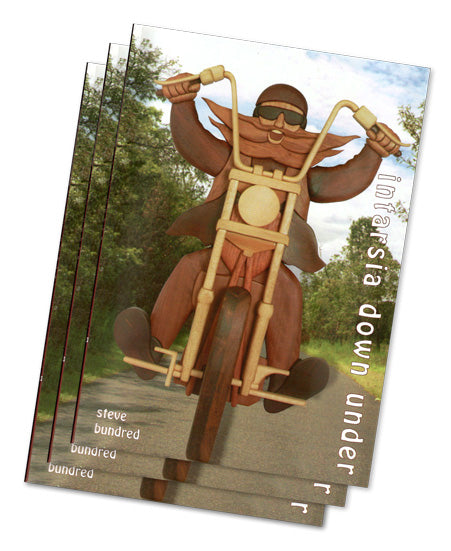 Testimonials
Testimonials about our Woodworking Patterns and How to Books.
And we expect you to read every one.
Well, okay, maybe not everyone, but if you've made it this far you might as well read a couple and I'll let you off the rest.
Our book Intarsia Down Under was given a rave review by the Australian Woodworker magazine. You can read the full review below.
Collapsible content
Australian Woodworker magazine book review

Home Grown Intarsia
lntarsia (making pictures with wood) is rapidly growing in popularity, for a number of good reasons -for instance, it requires a relatively minimal investment in equipment, and utilises small amounts of timber compared to other woodworking activities, such as furniture making or turning.
In response to the overwhelming number of people seeking general instructions in lntarsia, the very talented Intarsia artist Steve Bundred who has been selling his Intarsia plans and demonstrating the craft at woodworking shows for the past few years has put together a book called Intarsia down under. Aside from answering a lot of common questions, Bundred shows the reader how to make nine of his more popular projects.
It's an attractive book in full colour, with lots of good photographs (and we mean lots!). The author definitely believes in the theory that a picture is worth a thousand words, and in this instance it works.
The two opening projects, 'Flying Kanga' and 'Koala Dad', are designed to take the absolute beginner step-by-step through the process of cutting, sanding and matching each piece in sequence, gluing up on the backing board and finishing.
The remaining projects scattered throughout the book include a Koala Mum and Baby, a Reclining Kanga (after a hard day's hopping), a Swaggy, Bikie, Egret Mirror, a Walla Bee (sic) and a Sailboard with sailboarder. The instructions focus on specific new techniques, highlighting details of the process that may be unusual or challenging.
Early on in the book, the author examines the fundamental question of whether a scrollsaw or bandsaw is the better machine for cutting the pieces that make up Intarsia. Not only does he make good arguments for both machines, but he then goes on to instruct the reader how to make the most of either one. The best selection depends on the size of work you intend to do, and your budget. Other fundamental issues surrounding these two machines include blade selection, the use of table inserts on the bandsaw and types of blade guides.
Timber is, of course, the raw material from which Intarsia projects are made. The author does a great job of presenting the various sources of timber, and how to go about getting the best for less. He then goes on to explain how to select the right piece for the particular project, examining qualities such as colour, contrast and grain. Since very dark and very light colours are the hardest to obtain, there are a few tricks he shares with the reader for transforming the natural colour of the timber to one that is more suitable for the purpose at hand, These methods include bleaching and ebonising.
Safety aspects of making Intarsia are no different than any other form of woodworking, and the author briefly outlines his strategies for minimising danger, which include wearing eye and ear protection at all times. After cutting out, sanding is the main technique used to shape and give contour to the pieces of timber. The book covers all types of sanding tool, including solid and pneumatic drum sanders and flap sanders, along with alternate hand and mechanical shaping tools.
The final step in any woodworking process involves applying a finish. The choice between oils and polishes (wax and oil blends), or lacquers is presented, and the various advantages explained. The author provides several recipes for home made polishes and oil finishes which are perfectly suitable for the job, and easy to make.
All the project plans are printed on white backgrounds for easy photocopying. Part sizes, shape and grain direction are provided, along with instructions for enlargement were applicable.
Starting with the simple projects at the beginning, and building up to the more challenging ones towards the end, readers will develop a huge range of lntarsia skills, and have a lot of fun along the way. The author's humour and easygoing writing style guarantee a pain free learning process!

Intarsia Down Under
by Steve Bundred
Softcover, 210 x 297mm, 8Opp.
Published in Australia by
Gekko Timbers Publishing Division,
2501 Byfield Road,
Byfield Qld 4703.
Our copy from the Publisher.

This book review reproduced with permission from The Australian Woodworker magazine July/August 2000
Britain's largest selling woodworking magazine, Good Woodworking, also had nice things to say. Check them out below.
Collapsible content
Good Woodworking magazine review

Angel fish intarsia woodworking patterns

"Down Under woodworker, Steve Bundred has dragged intarsia into the 21st century. Use his methods to make superb 3D wooden pictures such as this attractive angel fish.

If Steve's angel fish has inspired you and you want to take an interest in intarsia further, he has produced a superb book on the subject with more details and tips to help you produce your own work.

Full of information about tools and timber, with clear and precise step by step instruction, accompanied by excellent colour pictures and a grand Antipodean sense of humour, Intarsia Down Under also includes plans for a number of original projects."

This review reproduced with permission from Good Wooodworking magazine February 2002 issue No 118
These are all genuine and only some of many kind comments we have had over the years.
"Thank you so much for your quick response, this sort of customer help is unheard of these days and I will definitely be passing this on to everyone that is interested in Intarsia."
Derek (by email)

"I still subscribe to a UK Woodworking Magazine, Good Woodworking, and you had a great article. I sent off for your book and the free plans and I was impressed with both. I really fancy having a go at Intarsia and the Outside Loo would be really great as a present for my father in law - the man who has everything."
David (Spain - by email)

"After trying your free pattern, (Dolphin) I have definitely been bitten by the Intarsia bug. To such an extent that I bought your book 'intarsia down under' which was advertised in my favourite woodworking magazine 'Good Woodworking'. I have always had an interest in woodworking, and over the years I must have bought dozens of books, but your enthusiasm must be catching, because it has reawakened my flagging interest, and I'm dying to try another pattern."
Terry (UK by email)

"Hey guys. Not only do I admire your work immensely, but you have some of the best photos posted on the Yahoo site, as far as photo quality goes. No glare off your pieces, great resolution, etc.
I know I've said it before Steve, but I want to reiterate it---You have a style all your own. Unlike any mainstream intarsia I have seen in the States or on any of the other sites I've visited. The extreme use of highlight and shadows, the dramatic quality, unique subject matter (If I see one more teddy bear or dog chewing on a shoe, I'm gonna puke) is, in my mind unique in the field. More visually gripping than the JGR stuff or any other I've seen. As an artist myself (actor & writer, and now intarsia wanna-be) I so appreciate it when an artist finds their own style and voice in a sea of stuff that all looks alike. If I get to the place where I am designing any of my own patterns, you guys have definitely provided a major influence for me.
I've been an admirer of the work you have posted on the yahoo site for several months now. Absolutely stunning work. Where do you find your patterns. Are they your original creations. (Yes, all the patterns on this site are originals!) The Marilyn and Chaplin ones especially are amazing. Would love to know."
Aaron (Chicago by email)

"I also got a copy of your book Intarsia Down Under, bought it here in Brisbane .....very interesting, with plenty of useful tips. You do realise, I have to hold you personally responsible for the complete change in my lifestyle ..... since seeing your stand at the show, I've been totally hooked on Intarsia ...... never spent so much time in my workshop before !!!"
John (Brisbane)

"It's a great book. I especially liked the swagman. Gotta get back to the shed !! Thanking you all at Gekko Timbers."
Gavin (New South Wales)

"Very nice job! The book is a good mixture of ideas, how-to suggestions, patterns and pithy Australian comments."
Paul (USA)

"I bought your book "Intarsia Down Under", it's great value and a delight to read. I love the little touches of your humour in the text. Do another book soon!"
Colin (Yorkshire)

"This morning, courtesy of our postman, I received your book which I had ordered through 'Good Woodworking'.
It is a very interesting book, formatted in an even more interesting fashion.I think my favourite 'picture' has to be the old feller reading his newspaper on the dunny.
I'm sure, like myself, your book will capture the imagination of many woodworkers and I wish you every success with it."
Bob (UK by email)

"It (Intarsia Down Under) reads well, is entertaining, educational and interesting. Makes me want to start right into intarsia, after the flying Kanga - the Cockatoo I think.
I'll keep an eye out for your other books."
Peter (England by email)

"Just received my books & all the information. I'm very impressed with the books.
Finally someone has designed a book you can understand. It is a credit to you & all involved with it."
Regards Peter (Queensland)

"Just a note to say I received the Intarsia plans on Saturday. I am very pleased with them."
James (UK by email)

"……just finished the flying Kangaroo, I have since had orders from my mother to make 2 for relations in England."
Ian (WA)

"…your book "Intarsia Down Under" which I bought, and have just finished reading. Very enjoyable, you should be proud of the whole production."
Max (Qld)

"Intarsia Down Under book that I have just purchased from you and am enjoying very much."
M (England by email)

"You will be pleased to know that I have just received a copy of your "Intarsia down under book" along with your catalogue of designs.I got it through the Good woodworking magazine issue 118 and I must say I am very impressed. I usually have to buy my books from America as it is very difficult to get anything to do with Intarsia here in the UK"
Jimmy (Scotland by email)

"Have completed 4 of your intarsia items & 12 in total---the aboriginal came out great also your "flutter sheet flap wheel" suggestion proved great."
Ken (by email)

"I have just bought your book Intarsia Down Under and found it very interesting and informative."
Greg (by email)

".....and what a great job you have done on (Intarsia Down Under), congratulations."
Gordon (NSW)

"…congratulations."
Allan (Ayr Qld)

"Many thanks for the book. It is excellent. The wait was well worth while."
Ron (email)

"I received the book yesterday and may I say it was well worth the wait, I'm going to have a bit of fun making some of them."
Terry (West Australia)

"… it's great and with the patterns as well it's smashing value"
Mike (Queensland)

"It's a great book. I especially liked the swagman. Gotta get back to the shed !! Thanking you all at Gekko Timbers."
Gavin (New South Wales)

"Nice piece of work. All the best!"
Les (Canberra)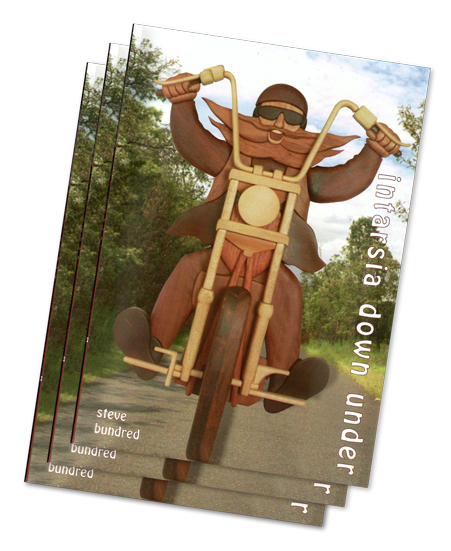 Intarsia Down Under Woodworking Book
Regular price
Sale price
$19.00 USD
Unit price
per
Sale
Sold out
Share
View full details